Physician Assistant Jobs – Physician's Assistant Roles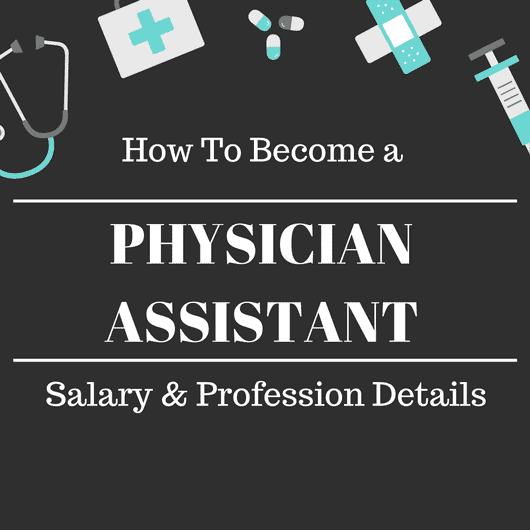 Nowadays, one can think it will be quite easy to think about how to become a Physician Assistant in a hospital or private sector medical health care centres. But, If you are a part of the larger field of medical sector and want to get some much-needed experience in the field then you need to meet specific requirements for physician assistant vacancy in order to justify your job duty. A physician assistant's job is exciting for the most part and it is equally demanding. To become a qualified physician assistant it is necessary to have a lot of experience and training is also mandatory. In this job, the assistant has to work under the supervision of a medical professional or doctor and provide support to the medical team. Graduates are also required to help during surgeries and work at a fast pace. Below you will find everything that there is to know about a physician assistant job. Most of the Post-secondary educational institutes and medical colleges offer courses to students so they can become qualified physician assistants.
How to become a Physician's Assistant?
Many people think about how to become a physician's assistant in an easier way just like becoming a nursing professional. But this clearly will not be the case. To become a physician assistant professional you need to cover a long and hard journey. Below you will find some of the details related to the Physician's Assistance Job requirements:
Graduation Requirement for Physician Assistant Job:
The first thing that you need to do is get a graduate degree from a related medical degree program. Most of the physician assistants today choose their career options as early as high school, which is why getting into a degree program is not a problem. Physician Assistant students need to pass a number of basic courses to progress, these courses include biology, anatomy, and organic chemistry. Other advanced courses are Neurology, Dermatology, Hematology and Patient Assessment.
Experience And Certification Requirement for Physician Assistance Vacancy:
In order to become a proper physician assistant, it is important to get the much-needed experience. If a PA wants to get a real job in the field then it is mandatory for them to put several months into clinical work under supervision. However, doing this is not difficult as most physicians assistant are able to get their experience through internship programs during their studies.
Physician assistants are also supposed to pass their Physician Assistant National Certifying Exam (PANCE). Without this certification, it would be impossible to become a practicing physician assistant. If you fail to clear the test then you can take the test again after 90 days. However, you only have three chances in a year and the test costs $475.
State License And Renewal for Physician's Assistant:
In order to become a practicing physician assistant, it is important to get a state license. There is a process that you need to follow in order to get your license. Renewing your license also involves quite a few things, for starters physician assistants are required to go through a few hours of education in order to get their license renewed.
Physician Assistant Salary?
The physician's assistant salary in the United States is a way to high as compared to African and Asian countries but it is lesser than some other countries such as New Zealand, Denmark, Australia, Sweden, Brazil and the United Kingdom. Many people think that becoming a physicians assistant means that they have to work long hours and get a less salary. However, this is most certainly not the case, physician assistant job holders are one of the highest paid people in the United States. The salaries that PA's are offered is decent and the job is also highly challenging.
How much is the Physician Assistant Starting Salary?
Physician Assistant Starting Salary: The initial salary of a Trainee Physician Assistant as per average records obtained from US medical health care units is around US$35000-55000 bracket. The physician's Assistant salary in some private hospitals is quite higher as compared to government-owned health care units.
Average Salary of a Physicians Assistant?
According to research, physician assistant Salary is around $96,000 as per recent records obtained from medical healthcare sector in the USA. This is the just the average annual salary and in many cases, the salary can be higher than this.
How much does a physician assistant make an hour?
If you want to go in a bit deeper then you will be pleased to know that physician assistants are paid around $50 per hour. So, every minute that you spend at your job will be earning you a lot of cash.
Benefits Of Being A Physician Assistant VS Nurse Practitioner- (PA VS NP)
Just like any other job becoming a physician assistant also has its fair share of benefits. Some of the main benefits will be discussed below.
How long does it take to become a physician's assistant?
The education required to become the physician assistant is the very expense in most parts of the world. However, it is not all too bad. As mentioned above, the basic annual salary of a physician assistant is pretty high, this means that there is a high chance that you will be getting a return on the investment you made in your education.
Bright Employment Future for Physicians Assistants:
According to research, physician assistant jobs have a very bright future. From 2012 to 2022 it has been recorded that there has been a 38% increase in the physician assistant demand. More and more people want to hire physician assistant and that is a good thing.
High Salaries Encourage students to enroll in Physician Assistant programs:
One of the main benefits that come with physician assistant job is the high salary. With an annual income of around $90,000 physician assistants do not need to worry about finance. This is undoubtedly one of the highest earning positions in the health sector and for good reason. On top of a good salary, a physician assistant also has the option to work in a location of choice and also choose their specialty.
Benefits of working with an experienced Physician:
If you are looking for experience then you will have a lot of it as a physician assistant. PA's have the opportunity to work with many skilled and talented physicians. They are able to learn a lot from these skilled professionals and all of that knowledge can be used later in the career. Aside from just learning new things, PA's also get the chance to help and heal people. Every day brings a new challenge in the life of PA, this is the reason why it is liked by many people.
Substantial position promise
The population of the world is growing very fast, and healthcare departments need to find skilled doctors to hire. However, most professional physicians tend to ask for very high salaries and it can become quite troublesome for hospitals. This has made physician assistant jobs a much stronger option. This is because physician assistant has all the training that a physician has but they are ready to work at a lower salary.
Physician Assistant VS Nurse Practitioner – PA VS NP
Whether you are a Nurse practitioner or a physician assistant, let be very clear that both these positions are very similar to each other. However, there are a few small concepts or things which do create a slight difference between the two. These concepts have been discussed in the points below
A physician assistant is educated in the medical model, on the contrary, a Nurse Practitioner gets an education from Nursing model
The degree name is different for example as a Physician Assistant you get Bachelor/ Masters in PA studies. As a Nurse Practitioner, you get Bachelor's in Nursing/Master's in NP Studies
A Physician Assistant's regulation is very much dependent on the jurisdiction as opposed to it a Nurse Practitioner is a regulated professional
Physician Assistant is a non-independent practitioner while a Nurse Practitioner can be a dependent as well as an independent practitioner however the scope of practice is there
Physician Assistant has expertise in all areas of medicine while Nurse Practitioner is a specialist in a specific field
Is Physician Assistant a good profession to chose?
These were somethings that you should know about physician assistant. Becoming a physician assistant requires a lot of hard work and time, however, once you have gone through this tedious journey then you will certainly enjoy better days. Physician assistant jobs are quickly becoming very popular in the world and it has a job market of its own.