How to write the title of a book?
writing a book Title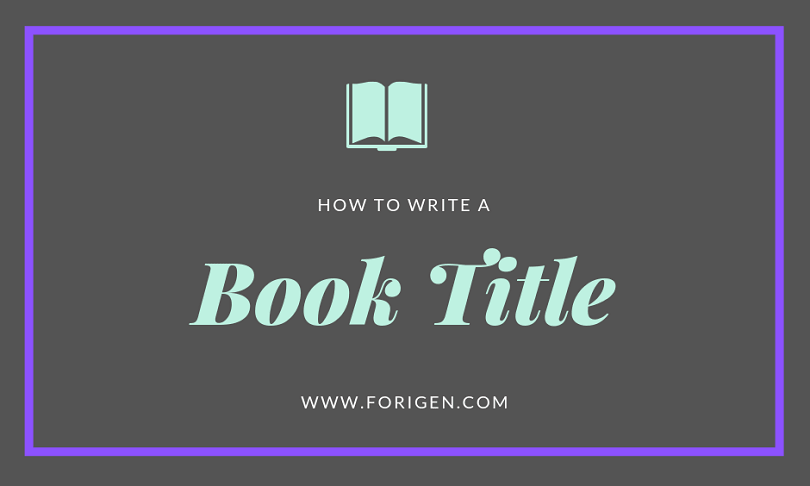 The title plays a significant role in determining how much attention your book will get when released. In fact, it could be said that an attractive cover along with an attention-grabbing title is the best marketing tool for a book. Depending on what the title of your book is, you could either stand out in a crowd or drown in it. An interesting title has the ability to stay in the mind of a potential reader.
Your editors, publishers, publicists, marketing managers, sales reps, in fact at every level of the traditional book publishing process, your title will be looked at to see how effective it is and how appealing it would be to book lovers. Knowing and understanding the elements that make up a good title takes on even greater importance if you are going the self-publishing way where you are the one who gets to decide the title.
It's Short but not Too Short
The longer the title, the higher the probability of its ranking somewhere at the top in a Google search results page. However, the disadvantage with long titles is that they are difficult to remember.
A short title is always advantageous as it is easy to remember and recall. Besides, your title should also be easily found in a Google search.  To do both of these you should go for a title that is somewhere in the range of 2 to 6 words in length. Leave the one-word titles, like" Bossypants "by Tina Fey, to established celebrity writers. As a writer looking to establish him/herself, make your title a 2 or more words affair or it could get lost in a ton of search engine results.
Make it Unforgettable; Avoid Puns
The best titles are those that are catchy and unforgettable once you've come across them. They should also be easy on the tongue. An example of such a title would be The Devil Wears Prada by Lauren Weisberger. "It's witty and memorable". Then again there's It by Stephen King, an extremely short title comprising of just two letters that evoke a feeling of uneasiness of what 'IT' could be.
Titles with puns in them could be misleading and even found offensive by some. An average reader could find it difficult to make out just from the title what the book was about. An example would be "The Missionary Position" by Christopher Hitchens. This book is actually about Mother Teresa but it would be difficult to pick that up just from the book title without its subtitle 'Mother Teresa in Theory and Practice' and book cover art. Subtitles usually accompany nonfiction book titles to explain to prospective readers what the subject of the book is.
Maintain its Uniqueness
Create a title that is the only one of its kind. You can do this by googling your title and finding out how many other similar published titles pop up on the search results page. Change it if it could be confused with another book title. For example, "Cat's Eye" by Margaret Atwood and Catseye by Andre Norton are two very different books that could be confused for each other because of their similar titles. Of course, you could garner some sales for your book if your title is confused for that of a bestseller, however, the converse, where you lose out sales to the bestseller, could also be true. For this reason, it is best to create a title that is unique in its entirety and is easily discoverable by any search engine.
A point to bear in mind when creating a title for your nonfiction book is not to borrow if from a bestseller fiction book, such as using a Gone With the Wind which is the title of a Margaret Mitchell classic, for your nonfiction book on the greatest storms or something similar. Such titles tend to irritate and annoy readers and alienate them from the writer.
It Hints At the Genre
When deciding on the title for your nonfiction book, ensure that your readers understand what to expect from your book in the title itself.  For example, the book How to Win Friends and Influence People by Dale Carnegie does exactly what its title says. The title says it all.
For your fiction book, the title should be more subtle in what it gives away about the contents of the book. It should be intriguing and arouse your prospective reader's curiosity, only hinting at what genre of the book is. Your title should make your prospective reader give your book a once-over. Examples of such titles are:
And Then There Were None by Agatha Christie (Crime, Mystery, Psychological Thriller),
The Da Vinci Code by Dan Brown (Crime, Thriller, Adventure),
The Lovely Bones by Alice Sebold (General, Literary Fiction),
The Kite Runner by Khaled Hosseini (General, Literary fiction)
The Subtle Knife by Philip Pullman (Young Adult Fiction).
Make a List of Titles
When thinking about a title for your book, begin with a brainstorming session and prepare a list of titles. You can later pare down that list to the one most suitable. There are a few tips and tricks or exercises that you could try out to create your list of possible book titles. These are especially helpful if you keep coming up blank when thinking about your title.
Use the name of your main character
Use the name of your main character along with another word or phrase
Use the name of one of the main locals in your book
Describe your main character/theme in the brief
Go through your manuscript for ideas
Look through old poems, idioms, phrases, old songs and sayings that are available online
Lay your hands on a list of bestsellers in the same genre that your book falls into and study the manner in which their titles have been crafted. Then work on similar lines to craft one for your book.
Use an online title generator to generate titles for you