leave application – Leave Letter – How to write a Leave Letter Application?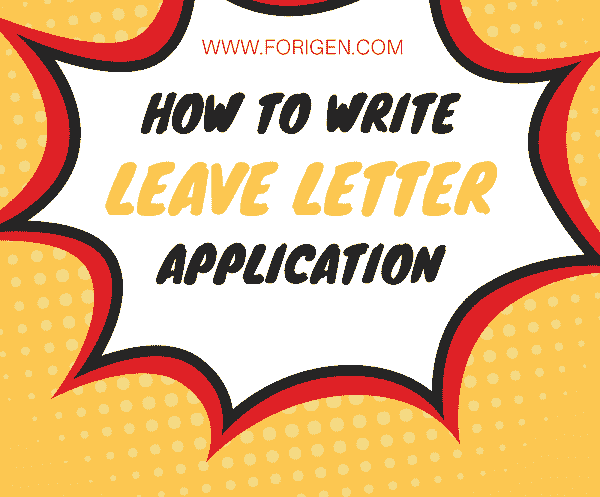 A leave application is a document by which students or employees apply for leave from school or office. Such a leave request which is put in written form makes the documentation process easy and helps the administrator in understanding your demands more clearly. A well-written leave application has 90% more chances of approval compared to a verbal or informal leave request.
How to write a Leave Application?
The standard procedure of asking for a formal leave application involves writing an email or a letter to your head or HR department regarding your circumstances. This leave mail letter  should clearly state the following major points:
Why do you need leave from school or office?
A reasonable explanation should be provided in your leave application, for example, loss of some close family member, the birth of a child or a serious health issue and so on.
You must mention the activities that you are ready to perform in order to curtail the inconvenience that may result due to your absence. These may include providing necessary training to your colleagues, compiling a comprehensive guide to your everyday work process or offering your availability by phone or emails during the leave period.
Your anticipated departure and return date to mention in leave letter application.
A thank you note for the head of the department for considering and granting your leave request.
Tips for writing an Application for Leave Request
It is essential to request a leave in the best way you can. Some of the key rules for processing an effectual and professional leave application are as follows:
Every organization has a policy for different scenarios including applying for leave from work. Such a policy clearly specifies those reasons on which leave application can be approved as well as the eligibility criterion of the employees. One must have a look at the instruction book of the organization for details. If any policy is in practice, then the applicant must make sure to stick on to those guiding principles while putting a leave application.
It is the best approach to discuss your situation first with your direct boss. It will not leave a good impact on him if he comes to know about your leave application from HR department or higher management.
Apply for leave ahead of time, particularly in case of long duration leaves. This will help your employer in making timely arrangements for your replacement as well as in completing the leave formalities.
Do not attach any authorized imperative with the preliminary leave application. It is better to give your employer full authority and let him take you leave out of good will. Any legal fortification can be invoked later on if required.
It is good if you consider about temporarily working from home instead of taking a full leave. For instance, if you want leaves for taking care of your sick mother, it is then an ideal situation for you to work from home. Keep different options in mind that can be presented if your employer is willing to think about other alternatives.
It is best to mention a return date in your leave application so that your administrator has the assurance of your return and he can arrange things accordingly.