Scholarships in 2020
Chevening Scholarship 2020-2021 – Online Application Submission
UK Government Chevening Scholarship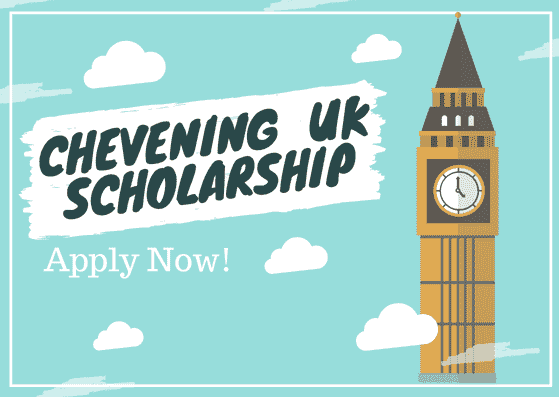 Deadline
November 9, 2019
Opening date
August 1, 2019
Category
Scholarships in 2020
Location
United_Kingdom (UK)
Chevening UK Scholarships and Chevening Fellowships 2020-2021 are now open for future leaders, influencers, and decision-makers from all around the world. Chevening Scholarship gives you an opportunity to study in one of the UK University where you can develop academic & professional skills as well as you can make network connections and experience cultural values in the UK that will help you to build positive relationships with the United Kingdom.
UK government is funding for Chevening Scholarship programs with help of Foreign and Commonwealth Office (FCO) and other partner institutes and organizations. International applicants are encouraged to apply for Master degree programs in any discipline which will be fully funded by Chevening Scholarship UK. From more than 110 countries, approximately 700 students will be selected to study Master degree programs under the Chevening Scholarship in the UK.
London School of Economics & Political Science, Universities of Oxford, University of Nottingham, University College of London, University of Bath, Cambridge Edinburgh and King's College London are among the most popular institutes in the UK, offering master degree programs under Chevening Scholarships.
Benefits of Chevening UK Scholarship
The fully funded Chevening scholarship provides free education that means no tuition fee is required to study in the UK
Airfares will be covered by your Chevening Scholarship as well (In and out of UK)
Upon arrival in the UK, Chevening Scholarship winners will be given with Arrival allowance
A monthly stipend will be provided to Chevening Scholars
Departure allowance from Homeward location
To attend conferences during your stay in the UK will also be covered by Chevening UK Scholarship
The UK student VISA application fee will be paid by Chevening UK
Chevening UK Scholarship Eligibility
An international applicant must belong from 110 countries where Chevening UK Scholarship is being offered
An applicant for UK Chevening Scholarship must agree to return to his citizenship country upon completion of his education in the UK for a minimum of two years
You must hold a bachelor degree to apply for Chevening Scholarship in the UK
An applicant of Chevening Scholarship must also fulfill the English language proficiency requirement provided by one of these four providers: Pearson PTE Academic, IELTS by Cambridge, iBT TOEFL, CEA Cambridge English Advanced and (B2) Trinity ISE II
How to apply for UK Chevening Scholarship?
Apply in three different UK Universities to obtain an unconditional admission offer letter
Once you obtain an unconditional offer letter from any of the UK University that supports Chevening Scholarship, then you are eligible to apply for Chevening Scholarship
Please make sure that you have at least 2 years of work experience if you are applying for Chevening UK Scholarship and in case you apply for Chevening UK Fellowship program then the work experience requirement is at least five years
If you are interested to apply for Chevening UK Scholarship then you can start by initiating an online application for Chevening Scholarship for consideration by Chevening scholarship board
Deadline for Chevening scholarship is November 6