Research Proposal
Writing a research proposal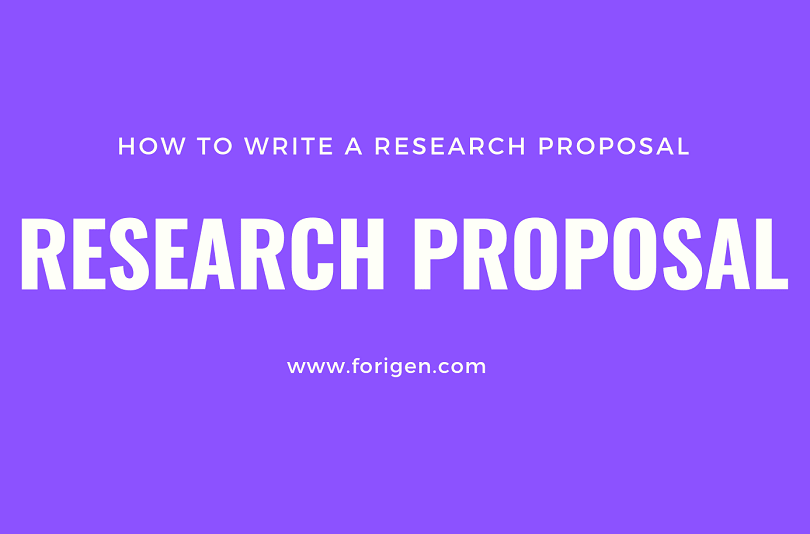 A research proposal is known as a clear and concise summary of your intended research work. It consists up of the central objectives or primary questions that you wish to address. It describes the field of study within which your work lies, and refers to the current condition of literature, or any recent studies or debates in the field. It highlights the originality of your ideas and work.
What is a research proposal?
A research proposal provides you with an opportunity to showcase your abilities for a graduate level research work, such as it gives you a chance to demonstrate that you have the skills to communicate your ideas effectively, and critically.
How to write a research proposal?
This is one of the most crucial parts of your application. An outstanding research proposal will:
Examine if you're a suitable candidate for graduate-level research work
Determine if your research is original and up-to-date
Evaluate if your proposed area of study can be supported or not
Select the ideal supervisor for you
Your research proposal may differ depending upon the field of your study. Usually, a research proposal for arts or social sciences will have different requirements as compared to a research proposal for engineering or health sciences.
Your proposal may differ from the actual work you'll undertake during the timeframe of your degree. In any case, you're required to have a comprehension of the complications related to conducting research, and the importance of designing research in order to address particular questions.
Research proposal outline
A successful research proposal must:
Define your proposed topic
Showcase that you have a grasp on your area of research
Demonstrate that you've developed original research questions
Indicate that you know how to conduct good research
Look professional
Make sure that your proposal is legible and clear
Have no spelling grammatical mistakes
Define quality, and not quantity
However, a research proposal can consist up of 1000 to 3000 words.
Steps for writing a successful research proposal
No matter if you're applying for an MPhil program study or a Ph.D. program research, your research proposal should generally incorporate the following sections:
This is only a title for your proposed research. In case you're admitted, you may be able to change, or revise your research title.
This portion must consist up of a 100-word statement of your proposed research. It may include the problem you're trying to examine or the primary questions that you want to address.
In this portion, describe the background against which you intend to conduct your proposed research. Include a comprehensive overview of the area of study. Summarize current literature in the field or any recent debates.
This will provide you with the ability to communicate concisely, yet clearly.
This portion must contain your central objective and the questions around which you're going to conduct your research. Before you start writing your research proposal, take some time out to reflect on certain critical questions that you're keen to answer.
A lot of research proposals are broad. This is why it is necessary to narrow down your proposal by completing your homework in the form of reflecting on your key questions.
Also, ensure that your research is feasible (such as; you're able to complete in the given timeframe).
Furthermore, you may prioritize a couple of primary questions and then derive a couple more secondary questions.
You must also highlight the strategy you'll utilize to answer the research questions (For example; Is your research empirical? Or theoretical?)
This portion must outline and explain the methods you've used to carry out your research. Your research methods may incorporate field work, visiting certain libraries or bookstores, sampling or interviews.
Majority of the research is usually library-based. In case your research is library-based, you should describe the location (Westlaw library etc.) of your key resources (such as journal articles or law reports).
In case you're planning to gather empirical data or conduct field work, you must give appropriate details regarding this (such as where are you going to conduct your research? Who will you interview? How many interviews are you looking forward to conducting? Will you face any complications? etc.)
This portion must also include the ways by which you're going to analyze the findings of your research.
This portion must express the originality of your ideas, and ultimately your research work. This is why you must describe why exactly is your research work significant (such as by describing the way in which your work adds to or develops the already available literature in the field or by pointing out why is this the time to carry out your suggested research)
This portion must include a brief bibliography recognizing the most significant works regarding your research.
How long should a research proposal be?
A well-written research proposal must address the following questions:
What do you plan to achieve?
Why do you want to achieve it?
How are you going to achieve it?
Generally, a research proposal consists up of approximately 2500 words, however, there are no upper or lower limits to this particular range.
While preparing a research proposal format, determine what is it that you actually want to learn more about. Whatever you want to research must be viable as a project, and must lead to the development of new information, or understanding.
What is the research proposal for?
A research proposal is for: (1) Potential supervisors, (2) Admission tutors, or (3) Financial lenders, since it helps them determine the standard and originality of your thoughts, your ideas, your skills, and the feasibility of your research work.
Please, keep in mind that Ph.D. programs in the U.K. are prepared in such a way that they're required to complete in: (1) Three years (if you're a full-time student), or (2) Six years (if you're a part-time student).
Carefully determine the scope of your research work, and prepare yourself to explain how you'll be able to accomplish the objectives of your research within the given timeframe.